A FEW OF OUR FAVOURITE PERENNIALS FOR 2021
Can you feel it? Spring is in full swing and it's almost time to start planting! This just might be our favourite time of year.
To celebrate, we thought we'd share with you some perennial choices to inspire your planting plans and garden centre trips. Our list includes a mix of our most tried and true favourites, along with a few new releases that we can't wait to try!
NO. 1: Pink Frost Hellebore
Helleborus 'Pink Frost'
Hellebore is a long-time favourite for a few reasons. First, it's one of the earliest perennials to bloom in spring, before much else has even had the chance to wake up. These stunning delicate blooms are sure to brighten a rainy springtime day. It also features this dark leathery evergreen foliage that adds a brilliant texture to the garden even when it's not in bloom.
We especially like the 'Pink Frost' variety because of its upright growing habit, making the blooms more visible than other varieties.
This is also a great choice for those more difficult shadier spots in your garden.
Stonecrop 'Brilliant'
This award-winning sedum is in heavy rotation in our planting designs. It's a great low-maintenance, drought and heat tolerant plant that looks great all year round!
Its rubbery green foliage looks good on its own but develops bright pink little flowers in the summer that turn into a more muted coppery tone in the fall. The dried upright stems look great throughout the winter season, adding structure and interest to the garden. It's then quick to start growing in the early spring, even before being trimmed back.
This plant is attractive to bees, hummingbirds, butterflies and it's deer resistant.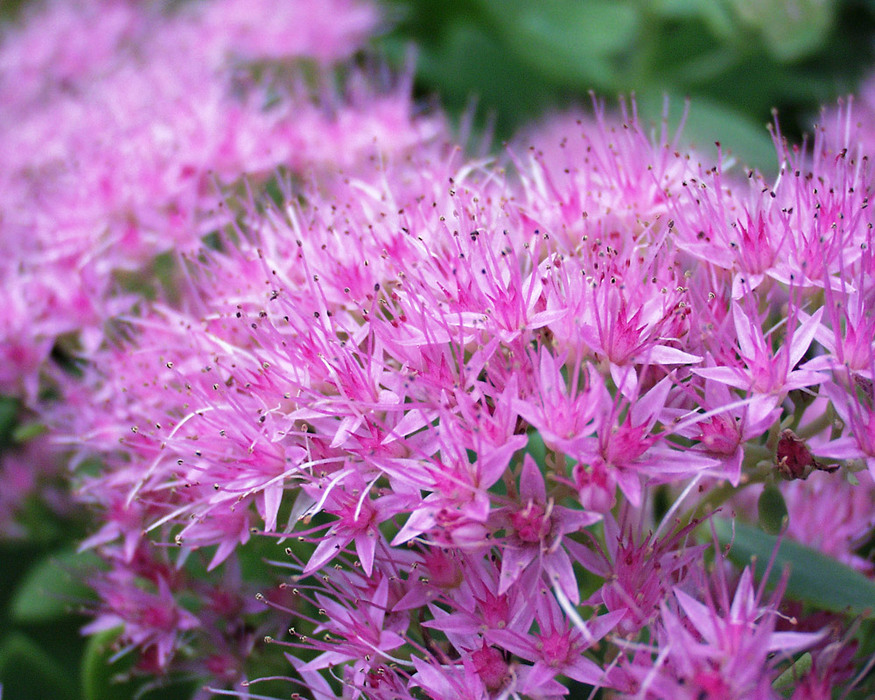 NO. 3: Golden Variegated Hakone Grass
Hakonechloa macra 'Aureola'
The award-winning Golden Variegated Hakone Grass is a very popular choice in our design studio. You might also recognize it by its commonly used name, 'forest grass'. With a graceful mounding shape and a variegated chartreuse leaf, this versatile plant looks fantastic massed or used as an accent in the garden. It also works for most garden aesthetics from contemporary to cottage.
While preferring a shadier site, it also performs well in sunnier locations.
NO. 4: Hameln Fountain Grass
Pennisetum alopecuroides 'Hameln'
Another one of our favourite (and award-winning) low-growing grasses is the Hameln Fountain Grass. This adorable fluffy grass starts off the season as a fountain of dark green arching leaves, that turn into a show-stopping display of silvery-white fluffy plumes mid-summer.
This grass does best in full sun, but can also tolerate part shade. It can be used as a specimen plant or massed for a more dramatic effect.
NO. 5: Northern Maidenhair Fern
Adiantum aleicum
The Northern Maidenhair Fern is absolutely one of our favourite ferns! This is because it has a unique horizontal and airy form that sets it apart from the rest. Its bright green fronds spiral around distinct black wiry stems to create a bouquet of textured greenery that sways gracefully in the wind.
This deciduous perennial prefers part to full shade conditions and moist soils.
NO. 6: Black Negligee Bugbane
Actaea racemosa 'Black Negligee'
This bold and dramatic perennial is a great addition to the garden! With a dark purple, almost black foliage, the creamy-white floral spikes that emerge in late summer to early fall really pop in contrast. We love plants that create movement in the garden, and these flowers do just that!
Best grown in part to full shade and in moist soils.
NO. 7: Walberton Yellow Crocosmia
Crocosmia 'Walberton Yellow'
We love the Walberton Yellow Crocosmia for its exotic look and tropical vibes. It's often one of our first choices for sites that need a shot of colour or luxury. It comes in a variety of bright colours, but we're partial to this yellowy-orange shade. 
It blooms mid to late summer, in full sun conditions. It makes for great long-lasting cut flowers and also does really well massed in a planter.
Calamintha nepta
We'd hardly consider this stunning perennial to be lesser! While we love all varieties of catmint, this unique white shade just won the Perennial Plant of the Year Award (PPA) for 2021! 
Catmint is great for a variety of reasons including its adorable rounded form, unique soft minty scent, easy maintenance, and its very long-lasting blooms. After its first round of flowering, just cut it back about halfway for another round! It will honestly bloom from early summer until frost.
It also happens to be a pollinator favourite!
NO. 9: The Price is White Echinacea
Echinacea 'The Price is White'
A new release for 2021, this white shade of echinacea is an exciting alternative. This variety was designed for it's sturdy branching and large 5" flowers. 
Echinacea is a great choice for any garden as it's beautiful, low maintenance, drought-tolerant, adds winter interest and is great for pollinators, while also providing winter food for finches and other birds.
NO. 10: Heaven Scent Jacob's Ladder
Polemonium 'Heaven Scent'
Another new addition for 2021, 'Heaven Scent' Jacob's Ladder features fern-like foliage with hints of purple and fragrant periwinkle blue flowers in the spring. This beautiful perennial does best in partial to full sun locations. 
We're excited to test this new perennial out amongst a variety of hostas!
We hope this provided you with some inspiration for this gardening season. We'd love to know what perennials you're most excited about this year!