Inspired by Bali
Bring Vacation Vibes into Our Outdoor Space
IMAGES –  FROM UNSPLASH (TOP LEFT TO BOTTOM RIGHT)
KSENILA ILLINKH, IVA S, CALEB GIBRALDO & KUTAN URAL
Since our travel plans are on hold for the foreseeable future, we've decided to focus on how we can bring those vacation vibes into our outdoor spaces. Why shouldn't we experience that special feeling all year around?? This year, we will release a post each month that features one of our favourite holiday destinations – and then will dive into how you can recreate the look at home. Lots of inspiration coming your way!
Our first holiday destination is the Zen tropical paradise, Bali. Known for its spectacular beaches, lush landscapes and strong wellness culture that consists of spirituality, yoga, meditation, spa and surf. This destination also ties in perfectly with our New Year's resolution of spending more time in nature for improved health and wellbeing (see our last blog post here).
A couple of years ago we worked with an incredible client that wanted to feel as though they were back in Bali every time they stepped out into their Hamilton yard. We worked closely with them to get a clear sense of their favourite experiences and memories of the island, and to translate these into functional spaces and design elements. The end result? A showstopper design that is timeless yet modern, fits the classic architecture of the home and transports you to a Balinese resort.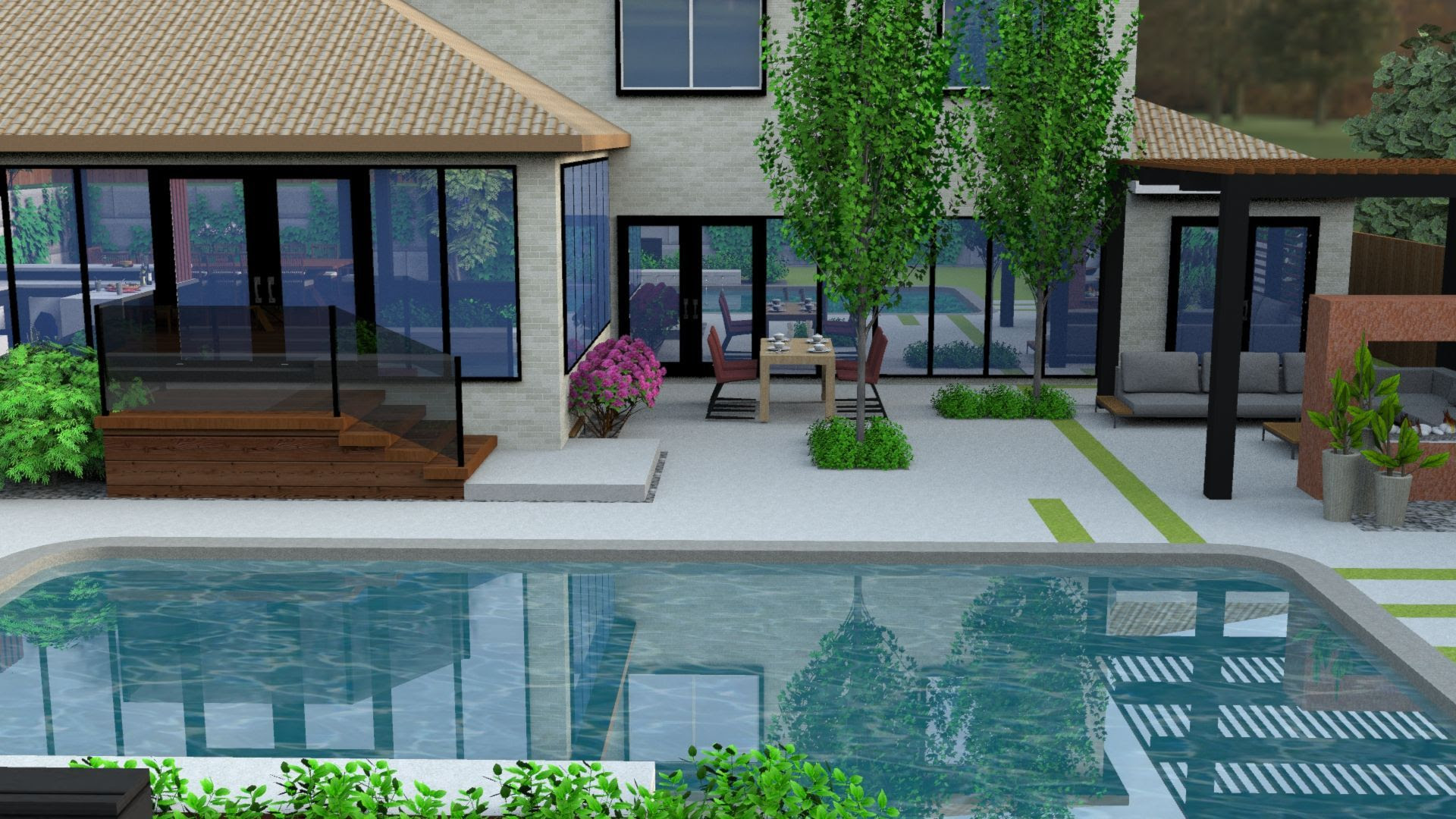 Yoga by the pool anyone?
We pulled materials commonly found in Bali as inspiration but opted for more local versions suited to our climate. We used Ipe wood (resembles Indonesian teak, but is more durable in our climate) throughout the design for decking, gates and other details like the outdoor shower and supports for the outdoor kitchen.
The black detailing was inspired by the black lava stone (Pedra Hitam) and the grey pavers by Andesite Stone, both created through volcanic activity and commonly used throughout the island.
And for the details? We opted for a corten steel fireplace in a burnt orange shade that resembles the marigolds use throughout the island for religious ceremonies – you'll often see them strung into a necklace and hung around the neck of a statue as an offering. We finished the design off with some stunning rattan light fixtures above the dining table that are both functional and sculptural. We think they are a great contrast to all straight structural lines!
Some of our favourite features of this design are the teak and riverstone outdoor shower (it's so freeing to shower outdoors in something this beautiful!), the cozy dining area with the rattan light fixtures that make you feel like you're on a trendy patio somewhere, and all the lush greenery including the vines that climb and tumble, plants selected so that there's always something blooming and fragrant in the air, and tropical outdoor planters that enhance island vibes.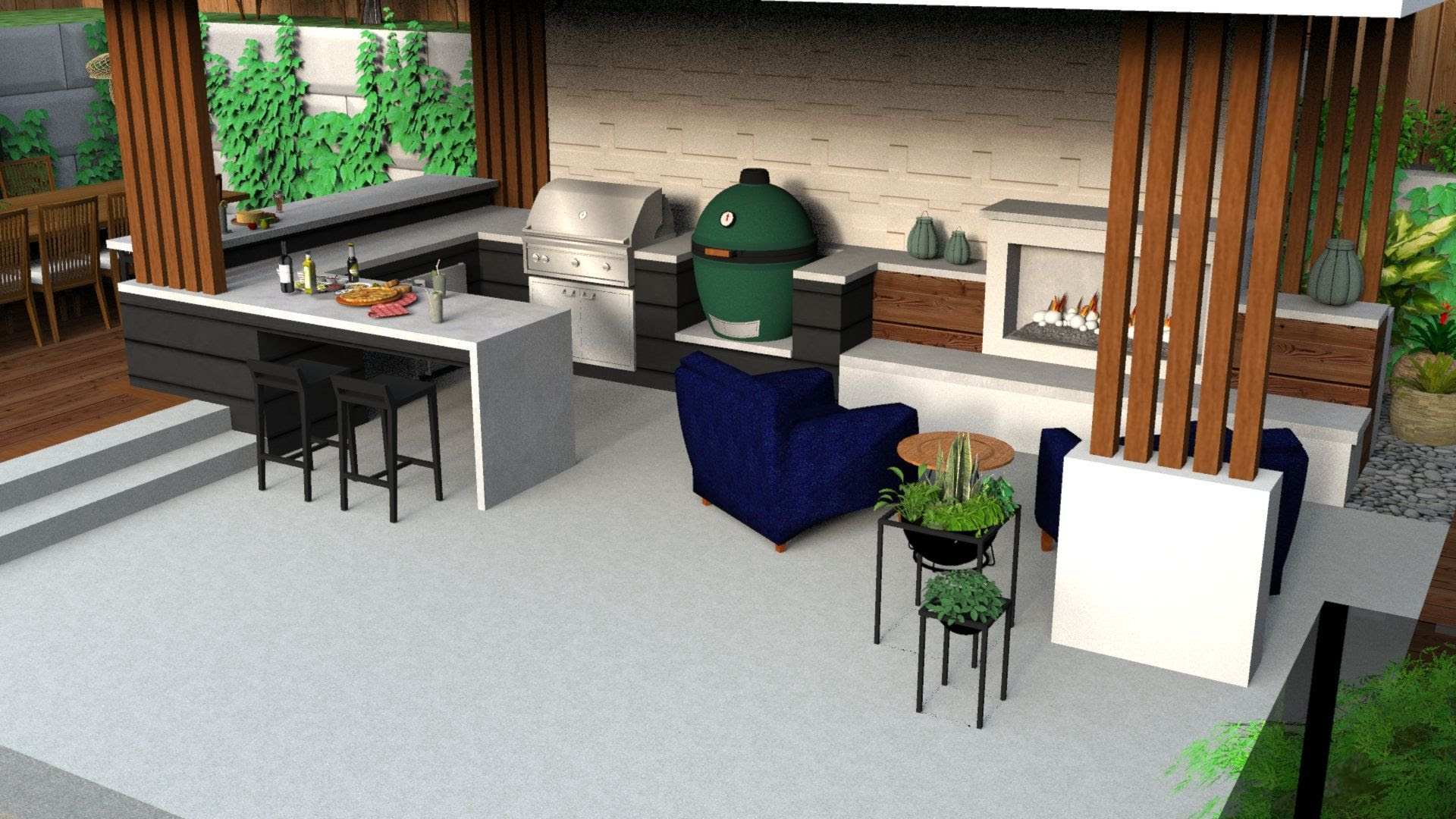 Interested in redesigning your outdoor spaces? We'd love to work with you to bring your favourite holiday destination to life in your landscape!
Get in touch here.